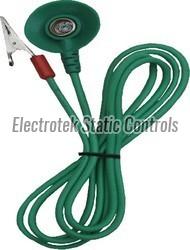 The emission of static electricity is undesirable in any situation since it can cause damages to electric gadgets while also endangering the person operating on the electronic item.
This antistatic gadget from wrist band grounding exporters in Gurgaon is used for this objective. A grounding gadget is a basic gadget that inhibits electrostatic discharge, keeping us secure while also protecting the electrical devices.
One such highly important antistatic gadget that is generally worn in the hands is an anti-static wristband or anti-static wrist bracelet. This is also known as the grounded wristband or ESD band, and it is worn on the wrist of someone who is operating on a very vulnerable electronic item. This device assists a person in being grounded while also preventing the accumulation of static electricity on an electrical item, which can cause catastrophic damage.
Detailed Information:-
It's just an elastic band composed of conductive fibers including carbon or carbon-filled polymer from wrist band grounding exporters, which is tied to the hand by stainless-steel plates or clamps. They were typically used in conjunction with an antistatic carpet on the workbench.
A wire is connected to the clip and connected to a grounding component, as in an antistatic matting. It is worn on the operator's non-dominant arm. Such that, if they are right-handed, then use it with the left wrist, whereas if they are left-handed, they carry it with the right wrist.
Importance Of Grounding Wrist Band:-
● When operating on a computer, such as inspecting it by removing the back or doing other tasks, it is recommended that the operator wears an anti-static wristband to safeguard the computer from electrostatic contamination. To safeguard the computers while operating on a PC, the grounding of the bracelet is hooked to the computer case.
● Maintenance workers are indeed expected to wear an anti-static bracelet, which could save objects such as a circuit board as well as other electronic gadgets.
● It also magically stops an explosion.
● With all of this, it is also employed to provide employees with protection. While employees are involved with electrical gadgets or near an electronic sensitive location, it washes away the stored charge from their bodies. As a result, these bands are not only excellent in preventing technological damage, but they are also entirely safe for humans to wear.
Anti-static wrist straps are necessary by newly opened factories and comparatively focused manual processing production lines. Many consumers seek clarification regarding wrist straps, but the majority of them are concerned with price rather than static protection guidelines to assess the necessary product quality.
Many people do not have a thorough understanding of the marketplace and the performance of the items. The low-price product is easily misunderstood.
If you're operating with a laptop, ground yourself simply by contacting the outside metal container of the power source before unplugging it. Using an anti-static band or bracelet could also help minimize static charge buildup.
Although it is rare, a powerful static electricity shock can destroy a PC, both while it is active or when you are functioning on it. Because the chances of a static discharge are so remote, most of us will construct a slew of machines and just never shock anything. Or it could be the opposite as well, so it is better to use one and avoid accidents.