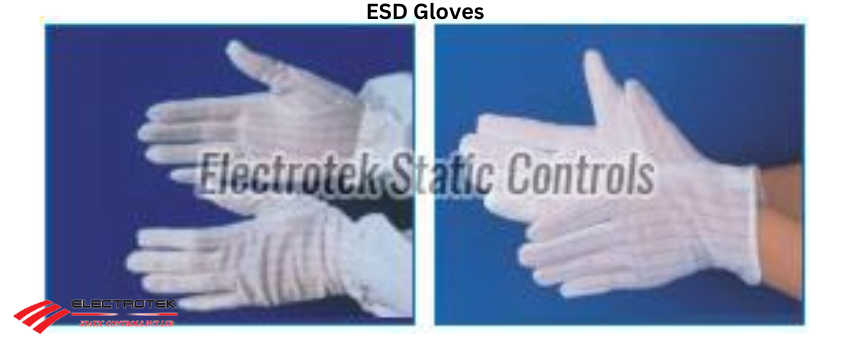 If you work in the electrical sector, you must acknowledge the importance of safety issues. Therefore, it's necessary to use proper equipment. ESD gloves are one such element. ESD gloves are used to give enormous safety to the workers. These gloves can not only offer safety but also create an overall safe atmosphere around them. These gloves are considered to be the most crucial equipment for working in laboratories.
Places like laboratories, cleanrooms, biotech industries, and electrical workstations are normally less contaminated and particle sensitive. For this reason, they require special tools for better functionality. Below we are fetching more data on how ESD gloves aid highly sensitive institutions that are related to electrostatic discharge. To know how these gloves help to maintain the workers safe, read the entire article.


The Goal of ESD Gloves
The main motto of using ESD gloves is to curtail the amount of static electricity in specific situations. While working in sensitive manufacturing units, gas repairing centres, and electrical parts handling units, these gloves are necessary. These gloves are generally of two types.
One category is made for product handling and the other is for product assembly purposes. ESD gloves can prevent electrostatic discharges but pairing these gloves with wrist wraps can diminish the possibilities of any electrostatic discharge. These gloves are available all over India and you can buy them from any reputed ESD gloves suppliers.


Materials of ESD Gloves
ESD gloves are available in different forms, materials and sizes. Each of them has specific functions and price rates. In terms of material, ESD gloves are made with materials like vinyl, latex, fabric and nitrile.


Latex
The very first material which is used globally for making ESD gloves is latex. Among all the materials, latex is the most used one in making ESD gloves.


Nitrile
The next material for making ESD gloves is nitrile. Nitrile is durable, anti-static, disposable and damage-resistant. Nitrile is a material that is created with synthetic latex. Therefore, nitrile gloves are safe for people who have latex allergies. But nitrile gloves are a little expensive in comparison with latex or vinyl material.


Vinyl
The next ESD gloves material is Vinyl. Vinyl gloves are safe for people who are allergic to latex. But vinyl gloves are not puncture resistant and durable as other materials. Buy a wide range of gloves from any well-known ESD gloves suppliers in Gurgaon.


Fabric
Apart from all the above-mentioned materials, any sort of fabric can be used to make ESD gloves. The main convenience of using fabric gloves is they can be used as many times as you want after cleaning them.
Each material has its own advantages but these materials should be used with caution. This is because some materials can make serious reactions with certain chemicals. So it is necessary to have detailed knowledge about the materials well. For example, though nitrile gloves are durable and anti-allergic, they can not be used with aromatic solvents and ketones.
So it's advisable to buy multiple gloves for better protection. Always assess the multiple needs of the workers, the highest heat resistance of the gloves, and cost well. Before buying ESD gloves, assessing these factors can help you get the best products.