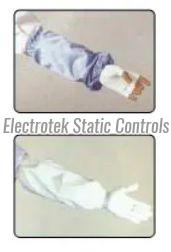 Wrist bands are used in various places and particularly for grounding purpose. Electrical grounding is an important concept or phenomenon that is very useful. The wrist band is worn in the hand and helps the person wearing it to be grounded while static energy is being build-up on any electronic device avoiding any kind of serious damage. ESD wrist or armbands are very popular and are being used in many industrial places where such type of electrical grounding is needed.
Various companies have been in the manufacturing of grounding wrist bands. These wrist bands are also considered as a security measure and should be worn as needed. The damage from electric shock can be highly dangerous or can be fatal in some cases. To avoid such cases, you need to make sure to put a wrist band grounding that will help you stay safe no matter what is the situation.
How to find the right wrist band?
It is a common question that many have in mind about how to find the right wrist band. Though various companies manufacture ESD wrist bands, quality is what makes them different. You need to make sure that the quality is not compromised at any cost. Wrist band grounding can be available in different sizes and quality and you need to be careful about what you are selecting as it is about a life and death situation. The capacity of the band should be up to the mark so that the wearer can be safe while wearing the band.
Tips to find the best quality wrist band
There are various ways through which you can find the best quality wrist bands and those are as follows:
• While purchasing the wrist bands, make sure that the company from where you are purchasing it has a good reputation in the market.
• Check with the quality of the products and make sure to check if they have passed through the industrial quality check and have the necessary markings to authenticate the products.
• Go through the company testimonials where clients will share their honest feedback and reviews that will help you to understand the product better.
• Check with the price of the products as many companies tend to ask for more money than it should be.
With the above few points, you will simply be able to find the right ESD wrist band for your factory and your employees and you will be able to proceed with the work safely. You can also look for wrist band grounding exporters in Gurgaon that can help you fulfil the requirement. They will also be able to help you get the products delivered to your location for the ease of doing business.
Looking for wrist band grounding exporters in Gurgaon, you should check that they take orders online and can meet the demand with a constant supply of the products. This way you will be able to continue with your work or if you are planning for reselling then you can carry on with your business as well.