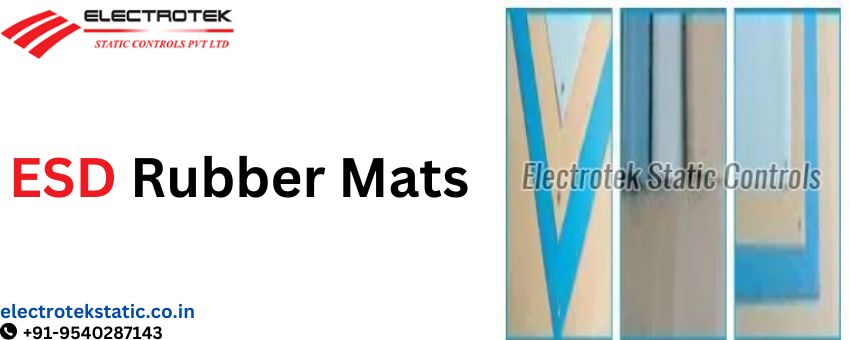 ESD rubber mats are important for spaces that are accountable for electronics manufacturing, server rooms, and laboratories. Find ESD Rubber Mat Suppliers in Gurgaon online!
There are different kinds of rubber mats available on the market. To get the best one, all you need to do is make an online search for the best manufacturers and suppliers. A professional manufacturer can better understand the needs of the customers and give you rubber mats.
About ESD Rubber Mats
These mats, also called conductive mats or anti-static mats, are specialised mats. They are made to control and dissipate static electricity in setups where sensitive electronic devices or even components are handled. The product plays an important role in industries such as electronics manufacturing, server rooms, and laboratories. They are supposed to avoid unwanted damage to the electronic equipment caused by the electrostatic discharge.
Let's discuss the key points of the products
:
• These mats are commonly made from dissipative or conductive material. The material assists in dissipating static charges securely to the ground.
• They have a particular range of electrical resistance calculated in ohms per square. Moreover, they are engineered to provide managed grounding, avoiding the buildup of static electrical energy. The resistance choice may differ according to the special needs of the application.
• As far as size and thickness are concerned, they come in different thicknesses and sizes to suit various needs and workspaces. The size of the mat is about 2' x 3 or 2' x 4'. Moreover, the ESD Rubber Mats Suppliers in Gurgaon also accept customised orders for the larger rolls. With the larger sizes, you can easily personalise workbenches or assembly areas.
• ESD rubber mats are available in different colours, which include black, grey, or blue. They may own a textured surface to discover better grip and durability.
• Grounding in the proper way is important when using the product. They are commonly joined to a grounding point with the help of a grounding cord, which is then joined to a suitable ground source. It can be a ground plug in an electrical outlet.
• The product should meet industry standards and undergo constant testing to make sure of its effectiveness in controlling static electrical energy. Common standards comprise IEC 61340-5-1 and ANSI/ESD S20.20.
• ESD mats are commonly used in different types of applications. It can be electronics assembly and repair, computer shops, laboratories, clean rooms, and areas where there is a high possibility of the materials being exposed, as static electricity can pose a fire hazard.
• To complement the ESD mats, more ESD-safe accessories such as grounding cords, wrist straps, and ESD-safe chairs can be used to make sure the true product is at the job station.
• These mats demand proper maintenance. They must be kept clean and free from dust, as contaminants can directly affect their level of conductivity. Constant cleaning with approved ESD mat cleaners is advised.
To get the product within no time, contact ESD Rubber Mats Suppliers in Gurgaon, who are readily available to serve your needs.