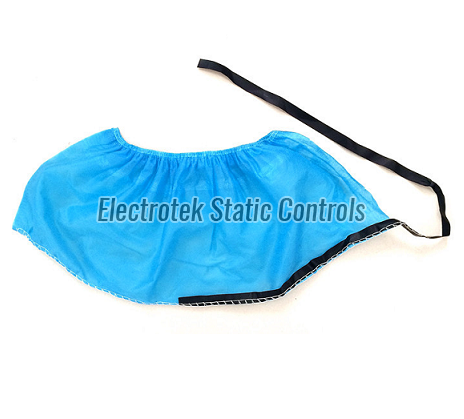 ESD shoes and slippers are static dissipating safety footwear that is designed to minimize the amount of static electricity build-up on our bodies. ESD shoes and slippers help in protecting against the dangers of static buildup in the workplace. ESD shoes and slippers conduct static electricity through the insole, outsole, linings, cement, and into the ground, helping regulate the buildup of electrical charge on a person's body. ESD shoes and slippers are must always be clearly labeled with an "SD" on the ASTM label sewn into the inside of the shoes or slippers. ESD shoes and slippers are made of high elasticity anti-static sole and are beautiful, generous, wear-resistant, light, comfortable, and durable.
Features of ESD shoes and slippers:-
• These shoes and slippers are highly appreciated for durability, gentleness, and comfortability.
• They are well-designed to prevent the accumulation of static electricity.
• They are dust-free and antistatic.
• They are made available with soft and wearable soles.
• They are easy to clean and easy to wear.
• These shoes and slippers can degrade naturally and have a `low carbon life.
Applications of ESD shoes and slippers :-
• Electronic industry
• Photovoltaic, solar, pharmaceutical industries
• Bioengineering, food, watches and clocks, instruments, cosmetics industries
• Batteries, petrochemical, electron mechanical industry and many more
To make ESD shoes and slippers work correctly, one will need to make sure of the following:
• Never put in other types of insole into these shoes and slippers. One should only use the specially designed Static Dissipating insole, if not the static electricity will not flow through the insole.
• If one's insole becomes non-conductive he/she should replace the shoes or slippers immediately. If it is not done the footwear will not dissipate static electricity.
• One's feet and socks must not be overly dry when wearing ESD footwear. Humidity is essential for peak ESD performance. One should avoid shoe powders, which could reduce humidity in ESD shoes.
• It is very essential to keep the floor and sole of ESD shoe always clean. If the sole is dirty with dust and other foreign matter it cannot maintain good contact with the floor, which means the static electricity, cannot be able to flow into the ground.
ESD shoes and slippers are mainly worn in computer component handling facilities, manufacturing facilities, and processing plants. That is because those particular environments lead to a build-up of static electricity on the employees, operating the machines and if the employee touches metal or another person they can get a "shock". ESD shoes and slippers can prevent this annoyance and discomfort, but the floor, mats, and machines need to be grounded as well to decrease the overall static electricity in the environment.
Depending on what type of job you are doing and the environment you work in you will need to wear adequate footwear.
To buy these shoes and slippers, you need to trust a reliable ESD shoes and slippers supplier in the market. One can also rely on companies, engaged in supplying a superlative range of ESD shoes and slippers in Gurgaon.