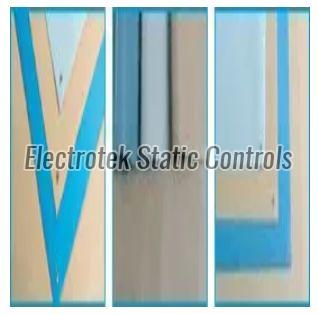 An Electrostatic discharge mat or ESD mat is a very essential part of an ESD protected area. Generally, ESD mats are designed to eliminate static on its surface and of objects placed upon it. The mat does this by having a conductive material embedded within it that collects the static and sends it to the ground (earth). This is often accomplished by connecting the mat to the ground (basically the center screw of an outlet) with a ground cord. It is necessary to discharge at a slow rate, thus a resistor in the ground cord is recommended. ESD mats are normally found in two categories: Vinyl and Rubber. ESD Rubber mats are the most extensively used mat material because they have a high resistance to most chemicals and heat. ESD Vinyl mats are also used for a work surface or tabletop applications. They are easy to cut, and some varieties provide a cushion. The type of material is a basic concern if one will be using a constant monitor as some materials are incompatible with certain constant monitors.
What are ESD Rubber Mats :-
ESD rubber mats are the anti-static device that safeguards an individual or piece of equipment like a PC from electrostatic discharge (ESD). Computer components that are sensitive to ESD are CPUs, motherboards, expansion cards, and memory devices. ESD rubber mats can be used under keyboards or mice and can also be placed on or under other equipment. These mats are particularly useful when working on computer components. Once an ESD rubber mat is grounded, it is essential not to lift the component off the mat because it may be susceptible to ESD.
Composition of ESD Rubber Mats:-
ESD rubber mats are available in single, two, and three-layer material. These mats are made up of two layers of static dissipative rubber material with a conductive material sandwiched between two layers. Generally, these ESD two-layer mats are .060 inches thick and have two layers, the top one is a blue static dissipative rubber layer laminated to a black conductive rubber bottom layer. Thickness, texture, and cushioning of the mat are also concerns depending on the application. These ESD rubber mats offer extremely good resistance to oil, grease, and most common solvent.
Different Sizes of ESD Rubber Mats That One Can Find:-
ESD rubber mats often come in 50′ or 60′ rolls in four standard widths: 24″; 30″; 36″ and 48″. These mat rolls are easy to cut and have a long shelf life so if someone has more than one area to cover or expansion is a possibility, he/she can purchase a full roll and cut pieces as required. Many ESD rubber mats suppliers also provide ready-to-use pre-cut mats with grounding hardware already installed. These mats can be more costly, but at the same time, they can also be a great time saver.
While choosing an ESD rubber mat, people should first use their specific application to narrow their choices. They should carefully plan and budget their workstation so that they can choose to purchase a full roll or a pre-cut mat.
To avail of these mats, you need to trust on a reliable ESD rubber mats supplier in the market. One can also rely on ESD rubber mats suppliers in Gurgaon, famous for supplying a superlative range of ESD rubber mats to their clients.